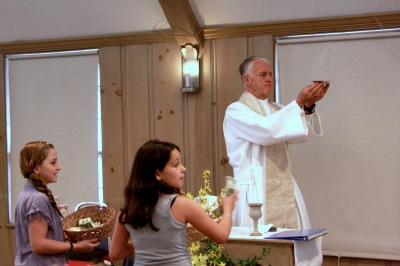 There is a difference between "happiness" and "joy." Happiness might be be a big bowl of vanilla ice cream at the end of the day or your favorite sports team winning, or getting that iPhone you've always wanted. Joy, on the other hand, is very different. Joy denotes that inner sense of life being lived in rhythm with God.
At Saint Mary's, on the fourth Sunday of each month at 9:30 am in the Parish Hall, our Joy Mass seeks to allow children to tap deeply into the joy we can all know in our relationship to God. The Joy Mass is designed for young children but is open to people of all ages and those who love them. The Joy Mass Team, the Rev. Dr. Mark Anschutz, the Rev. Dr. Libby Gibson, and youth of the parish, promise that the music is singable, the gospel story is dynamic, the prayers accessible, and the Eucharist nourishing.
Dr. Maria Montessori, the acclaimed educator and devout Christian, said that joy is the indicator of interior growth, just as an increase in weight is an indication of bodily growth. At Saint Mary's Church we recognize that we have a great responsibility to nurture that kind of interior growth, that joy in the lives of those children God has entrusted to us. The Joy Mass seeks to be one of the many ways in which we seek meet that challenge, that responsibility. Please join us!
The offering collected at our monthly JOY Mass goes to support

:
—Mosquito Nets for children and their families who live in malaria-infested parts of Africa.
—The St. Mary's mission to the Rosebud Indian Reservation in South Dakota.
—Food packages prepared for hungry children on Cape Cod and delivered through their schools.