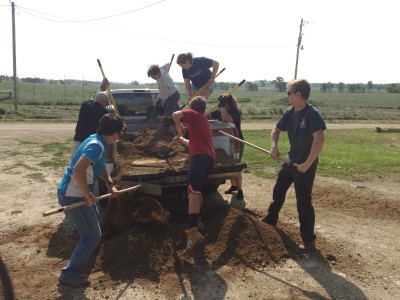 At St. Mary's, we cultivate a sense of gratitude for the abundant ways that God blesses us and our parish community. God is the first and greatest Giver, and being made in God's image, we strive to give and live openly and generously by sharing our time, talents, and treasure.  By volunteering at St. Mary's or with parishioners in the community, and by financially supporting the incredible ministries of St. Mary's and our outreach partners, we demonstrate our gratitude and trust in God's loving provision of all that we need. Please join us in tangible acts of gratitude through service and giving.
Ways to Get Involved
Volunteer  with us in our community: If you are interested in joining us and working on various projects in the community, please click here to learn more about our outreach initiatives.
Volunteer at St. Mary's: St. Mary's offers a variety of ways for interested parishioners to become more involved in the life of the church and to enrich their own lives. If you are interested in volunteering in the parish as part of our worship, music, outreach, education, garden, care, or hospitality teams, please click here for more information.
Volunteer with our children and youth ministries: At St. Mary's, we have developed a number of hands-on outreach projects for our children and youth. Please click here to learn more.
Support our Outreach Partners: In addition to the many gifts of time and talent shared by parishioners, St. Mary's annually donates more than $50,000 to local, national, and international group. Please click here to learn about our outreach partners and consider making a donation to them.
Support St. Mary's: By pledging to support the work of St. Mary's, we participate in the giving nature of God.  Trusting that God provides all good gifts in our lives, we financially give back through the church. Please click here to learn about our Stewardship program.