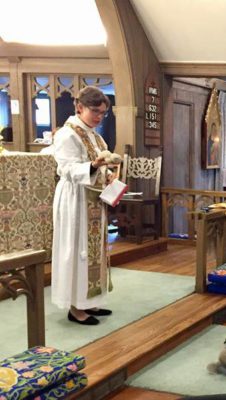 At St. Mary's, sharing the good news of God as revealed in Holy Scripture is one of our greatest honors and pleasures. We seek to offer sermons that are relevant to people of all ages.  On the second Sunday of the month at 10:00 am, we offer a children's sermon as part of Youth Sunday.  On the fourth Sundays of the month as part of Joy Mass, the sermon builds on a skit and strives to engage both the children and adults present. In addition to our rector, the Rev. Dr. Libby Gibson, we are blessed to be served by the Rev. Michael Bousquet and a number of retired clergy who regularly preach in our liturgies. Each one brings a different perspective to Scripture and style to the delivery of their messages.  You will find audio of our sermons below.
Sermons from previous years can be found by clicking the links below.
For sermons from 2014, please click here.
For sermons from 2015, please click here.
For sermons from 2016, please click here.
Veterans Day, November 11, 2017, The Rev. Dr. Libby Gibson
19th Pentecost, October 15, 2017, The Rev. Dr. Libby Gibson
16th Pentecost, September 24, 2017, The Rev. Dr. Libby Gibson
14th Pentecost, September 10, 2017, The Rev. Dr. Libby Gibson
13th Pentecost, September 3, 2017, The Rev. Dr. Libby Gibson
11th Pentecost, August 20, 2017, The Rev. Dr. Libby Gibson
10th Pentecost, August 13, 2017, The Rev. Dr. Libby Gibson
8th Pentecost, July 30, 2017, The Rev. Dr. Libby Gibson
7th Pentecost, July 23, 2017, The Rev. Dr. Libby Gibson
6th Pentecost, July 16, 2017, The Rev. Ed Saling
4th Pentecost, July 2, 2017, The Rev. Dr. Libby Gibson
3rd Pentecost, June 24, 2017, The Rev. Dr. Libby Gibson
Trinity Sunday, June 11, 2017, The Rev. Michael Bousquet
Pentecost, June 4, 2017, The Rev. Dr. Libby Gibson
Ascension Day, May 28, 2017, The Rev. Dr. Libby Gibson
6th Easter, May 21, 2017, The Rev. Michael Bousquet
5th Easter, May 14, 2017, The Rev. Dr. Libby Gibson
4th Easter, May 7, 2017, The Rev. Dr. Libby Gibson
3rd Easter, April 30, 2017, The Rev. Michael Bousquet
2nd Easter, April 23, 2017, The Rev. Dr. Libby Gibson
Easter Day, April 16, 2017, The Rev. Michael Bousquet
Easter Day Children's Sermon, April 16, 2017, The Rev. Michael Bousquet
Easter Vigil, April 15, 2017, The Rev. Dr. Libby Gibson
Good Friday, April 14, 2017, The Rev. Dr. Libby Gibson
Maundy Thursday, April 13, 2017, Hilary Greene
Palm Sunday, April 9, 2017, The Rev. Michael Bousquet
5th Lent, April 2, 2017, The Rev. Dr. Libby Gibson
4th Lent, March 26, 2017, The Rev. Dr. Harry Irwin
3rd Lent, March 19, 2017, The Rev. Michael Bousquet
2nd Lent, March 12, 2017, The Rev. Dr. Libby Gibson
1st Lent, March 5, 2017, The Rev. Dr. Libby Gibson
Transfiguration Sunday, February 26, 2017, The Rev. Michael Bousquet
6th Epiphany, February 12, 2017, The Rev. Dr. Libby Gibson
5th Epiphany, February 5, 2017, The Rev. Michael Bousquet
4th Epiphany, January 29, 2017, The Rev. Dr. Libby Gibson
3rd Epiphany, January 22, 2017, The Rev. Dr. Libby Gibson
2nd Epiphany, January 15, 2017, The Rev. Michael Bousquet
Baptism of our Lord, January 8, 2017, The Rev. Dr. Libby Gibson
Epiphany, January 6, 2017, The Rev. Michael Bousquet
The Holy Name of Our Lord Jesus Christ, January 1, 2017, The Rev. Dr. Libby Gibson