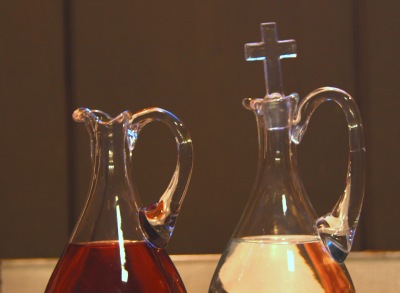 Our goal is to let every parishioner and their families know the love and care of God during difficult times of transition. We hope and pray that all will feel welcome bringing concerns to our team and we pray that we will continue to serve our parish faithfully in Jesus' name.
Churches can be places of healing. Through the church, we come to understand the meaning of health as the harmony of body, mind, and spirit and living in relationship with God and with each other. We offer healing prayers during communion at all of our weekend services, and a weekday Healing Eucharist on Wednesdays at 10:00 am. Through our pastoral care team, we can reaffirm the church's role in ministering to the whole person: body, mind, and spirit. We can become God's instruments of healing.
The pastoral care team coordinates with the Eucharistic Visitors to bring communion to shut-ins, help get transportation for parishioners who need a ride to church, make friendly visits to people at home, visit people in the hospital, nursing homes, rehab centers or other facilities, and deliver food to parishioners.  Our parish nurse is available to help monitor parishioners health needs. We also receive parishioner prayer requests and concerns about others in need.
Daily Hospital Visits
Each day of the week, members of our clergy team visit Cape Cod Hospital.  If you or your loved ones are admitted to the hospital, please indicate that you are a parishioner at St. Mary's so that we can visit and pray with you.
Pastoral Care Contact: The Rev. Dr. Libby Gibson
Parish Nurse Contact: Susan Babcock, RN, FCN