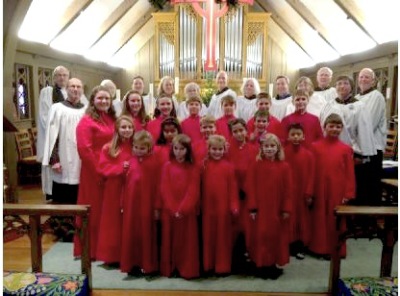 St. Mary's Choirs are always open to new members! These ensembles focus on basic vocal training and accessible music. The Parish Choir is comprised of singers with more musical experience, rehearsing Wednesday evenings from 6:45-8:15pm and Sundays at 9:00am. This choir provides the principal musical leadership for the 10:00am Sunday eucharist, Evensong, and other services throughout the year. During the summer, the Summer Choir rehearses at 9:00am on Sunday mornings for the 10:00am service. Please call our Director of Music Ministries, Douglas Keilitz on 508-362-3977, ext. 15 if you would like to learn more.
St. Mary's Choristers consists of singers grades 3-12, regularly providing musical leadership in our worship services. As an affiliate of the Royal School of Church Music, the Choristers utilize the RSCM Voice for Life training program to increase their music education and choral-singing abilities. St. Mary's is very excited to offer this extraordinary program to the children of Cape Cod. Rehearsals are held each Wednesday and Thursday, 5:00-6:00pm, and sing regularly on the second Sunday of each month, for Evensong, and other worship services throughout the year.
The Music & Arts Committee exists to support the music program in its outreach to the community. This committee has enabled the church to commission new music, engage professional instrumentalists for festive occasions, and purchase special music supplies. The Music & Arts Committee is integral to organizing and hosting the annual Cape Cod Early Music Festival.