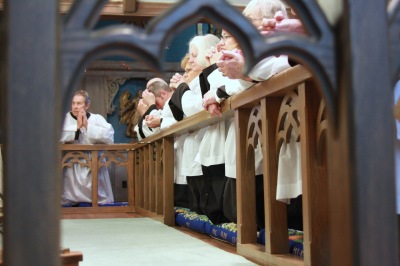 Is Membership Required to Attend Services?
No. Everyone is welcome to worship at Saint Mary's.
Where can I learn more about Taizé and Joy Mass?
Please click here to learn about Taizé and here to learn about Joy Mass.
What is the difference between Rite I and Rite II?
The most apparent difference between Rite I and Rite II can be found in the type of language that is used to shape the prayers. Rite I liturgies reflect a more traditional style of Anglican worship that may be more familiar to those who grew up with the 1928 prayer book. While the Elizabethan language is very beautiful, the tone of the liturgy is more penitential. Rite II liturgies reflect a more contemporary style of Anglican worship where everyday, common English is used. Rite I and Rite II liturgies follow a very similar order while a few prayers are particular to each rite.
I have some mobility challenges that make it difficult for me to walk and/or kneel. Will this affect my ability to worship at St. Mary's?
St. Mary's church and parish hall are accessible by ramps. The most important act of worship is turning our hearts and minds to God — please stand, sit, or kneel as is comfortable for you. You will see a variety of physicial postures at St. Mary's, which express different theological and practical concerns in our parishioners' lives. We do have a communion rail, and it is pefectly appropriate for you to stand at the rail to receive communion. We are, afterall, a resurrection people! If it is difficult to come forward during communion, please notify the usher and the priest will bring communion to your pew.
Questions About Communion / Eucharist
Can I receive, and if so, how do I receive?
All are welcome to receive Communion at St. Mary's. In Holy Scripture, Jesus invited all people to share table fellowship with Him, with no requirements prior to coming to the table. Many people experience a deep sense of peace and acceptance when they receive Communion, as they take the Bread of Life into their hearts and souls for nourishment on life's journey.

To receive the wafer simply extends your hands, palm up and the priest will place a wafer in your hands. If you want to "intinct" or dip the wafer in the wine, hold it in your hands until the lay minister brings the chalice (cup) to you and then dip the wafer into the wine. You are also welcome to consume the wafer and then take a sip of the wine when the chalice is brought to you. Please help guide the chalice to your lips.
Are children welcome to receive?
Children of all ages are welcome to receive Communion once it is safe for them to consume the wafer (or a piece of it). They may dip the wafer into the wine or take a sip from the chalice–please use your discretion and help them as needed. If you would rather that the child receive a blessing from the priest, have her cross her arms in front of her chest or say to the priest "A blessing, please."
Do you have gluten-free wafers?
Yes, we consecrate gluten-free wafers at all services. Simply say "Gluten-free wafer, please" when the priest approaches you with the wafers.
I'm in recovery, do you use wine?
Yes we do use wine. If you do not want to receive the wine, please cross your arms over your chest and the lay minister will pass by you.