November 25, 2015
As we draw to the end of our pilgrimage, it seems that our experiences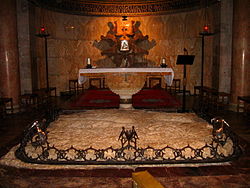 are becoming more and more intense.  Today, we walked part of the route that Jesus may have taken on Palm Sunday, when he entered Jerusalem in a triumphant, peaceful procession.  The time we spent in the Basilica of the Agony, where Jesus wept before he was arrested, was some of the most powerful moments of prayer for many of us. While we stood outside the church in the Garden of Gethsemane, one of our guides read a passage about the internal and external agonies we each experience in times when the future seems uncertain. As we carried these thoughts into the church, many of us wept as we touched the rock where Jesus poured out his heart to God. Then leaving the church, the beauty of the Garden wrapped us in peace. The ancient olive trees stand watch even when we struggle and wonder if we are alone in our agonies.  I find it very difficult to process these kinds of experiences because all this had happened before 10 am!  The gifts of this trip will continue to unfold for many years, and I pray that Jesus continues to lead me on this pilgrim path as we prepare to return home.
November 24, 2015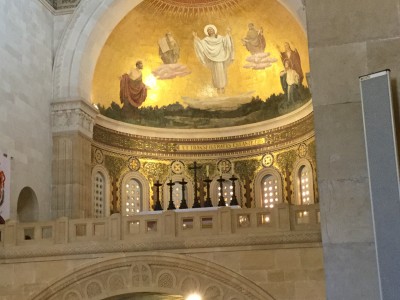 Hilary Greene writes: This trip is uncovering all sorts of things for me. Recently, I have noticed I am scared of heights, but every high place I have gone on this trip, hasn't bothered me in the least. It seems the holy spirit wants me to rethink who I am, or think I am.
The visit to the church of the Transfiguration made me realize all the transfigurations I have experienced over the past decade ad the ones still happening. As we made our way up the mountain in shuttle buses, winding up a steep road, I wonder why Jesus and his followers would make his trek all the way up this steep mountain. Did Jesus know what was going to happen? Did he want to be alone to pray and the disciples just followed him anyway to see what he was up to? All I know is it was a long way up and you needed to really want to be up there to make that trek. Maybe Jesus knew what was to come, maybe he wanted a witness or two, maybe he was as surprised as the others that this was when God would proclaim Him his beloved Son. I certainly don't know- I will say this trip brings up many more questions than answers.
The transfiguration I have felt over the past decade is one of peace. A dove symbolizes God coming down to anoint Jesus as his beloved Son and it is also a symbol of peace. The peace that God has brought to me is one of seeing Christ in others. I am learning that even those who annoy or offend me, are beloved children of God and are part of my daily transfiguration. Instead of my emotions roiling in me when someone upsets me, I try to draw closer. In getting closer to that person, I cannot flee or hide from them. I can't take my ball and go home without being noticed. When I learn to see more into a person, it calms me down. I feel more peaceful, and a sappy smile comes to my face. Seeing Christ in others is a lifelong learning experience, and believe me, I don't succeed one-tenth as often as I would like to, but today reminded me that transfiguration happens every day, and you don't need to be on top of a mountain in Israel to find it. But it sure helps.
November 23, 2015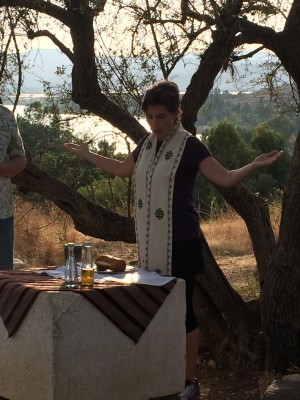 Today we spent most of the day near the Sea of Galilee, visiting  holy sites such as  Peter's  home where Jesus  healed Peter's sick mother, the Jordan River where we renewed our Baptismal vows, and the mount of the Beatitudes where I was blessed to celebrate the Eucharist. Every day of this trip,  Jesus  has touched my heart in various ways. Today, as we visited so many places where Jesus likely spent time, I was able to sense the shape of his ministry as a man who worked hard, visited friends, and spent time on the water. The region around the sea is in Israel, not the occupied West Bank, so we were not met with constant reminders of the hardships faced by Palestinians. Perhaps the momentary reprieve from the political realities helped the more subtle experiences of place to fill my mind. Here, I walked with the Living Christ and am grateful.
November 22, 2015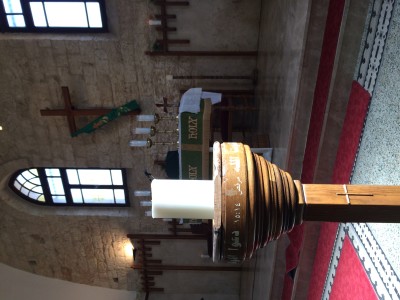 In the Holy Land, we are visiting a number of holy sites with ancient stones. But the true treasures are the living stones, the Palestinian Christians who faithfully worship in congregations throughout the region. This morning, we were blessed to worship with the radically hospitable people of St. Paul's in Shefa-amr. The service was offered in Arabic and English, with the amazing rector (Father Fuad Dagher) also serving as the organist. In this highly religious culture, Christians are less than 2% of the population and survive despite intense political and religious pressure. Many
Palestinian Christians have emigrated to find homes where they can live in freedom and safety, and find opportunities for their children. The ramifications of this mass exodus of Christians are widespread. Communities like Bethlehem, where Christians were once the vast majority, now struggle to maintain their churches and worshipping congregations. The elders who remain in their homes have no family members to support them as they age. In a society with no social security system of any kind, this destines them to lonely lives of hardship and embarrassment in their communities. Despite losing their homelands to the Israelis, and some Christians living in occupied territories, the joy and hope of our Palestinian brothers and sisters..
November 21, 2015
Hilary Greene writes:
Today I felt as dry as the desert, appropriate for our visit to Wadi Qelt this morning. It is thought that Jesus and his followers walked through this desert, and across the desert we could see the Mount of Temptation, where it is believed Jesus spent 40 days being tempted by Satan. We met a few Bedouins, heard the 23rd Psalm and then spent some prayer time before celebrating Eucharist with Bishop Gayle.
Yesterday was a sea of emotions from visiting the place that Jesus was born, to seeing the Wall of Separation at Rachel's Tomb. This wall separates people on their own land, in the village of Jesus' birth, Bethlehem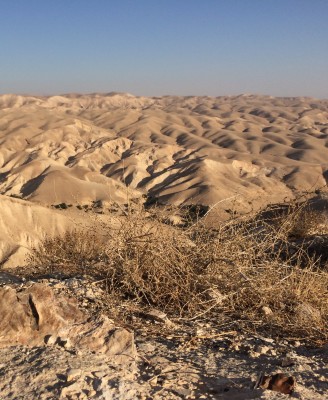 . And honestly I thought, "I can't do much more of this." I felt raw, open and very vulnerable. My next thought was "At least all the hard stuff is over for now, let's go have a nice Eucharist in the Judean desert…"
But as I looked out onto this wilderness, I started to remember all my wilderness times, and felt once again the pain of loss, for me and for those I love. In the story from Matthew, Jesus is tempted but seems to so easily handle all that is thrown at him by Satan. I looked around at my fellow pilgrims and wondered what or where their wilderness was. Can we be as confident that God is with us in the wilderness as Jesus was? When confronted with evil, can we know the right thing to say and do? When we see pain, violence and separation from each other and from God, will we listen to truly hear what God is telling us and where He is leading us?
I pray that we can. I know God is with us, even in the wilderness – maybe even especially in the wilderness – but I am unsure if I am up to the task. God, be with me and all of us through this journey, give us the strength to do your will, and keep us close in your loving arms. Amen.
November 20, 2015
Hilary  Greene writes:  I am fortunate that I don't usually suffer from back pain. Even as I age, and more aches and pains appear, my back usually is not one of them. Which may be why God is using it on this pilgrimage to get my attention.
It was Wednesday, our second full day here. We had an early breakfast and headed out to the Western Wall (known as the Wailing Wall until the 1967 War). My back started to ache, low down, as soon as we got on the bus for a relatively short bus ride. Standing in line to go to the wall, it ached more, l couldn't help but notice. I approached the wall to pray and was overcome with being part of two millennia of people coming to this wall, putting their notes into it, praying for those we love, and even those we do not know, but feel compelled to pray for because of all we were learning about the oppressed people throughout the world. God was sending me pain to help me notice and the Spirit was moving me, shouting at me to PAY ATTENTION! Hear, O Israel…Hear O Hilary…I heard the words I should say: "Speak Lord for your servant is listening." I backed away from the wall, full of emotions making their way to the surface, and my back aching.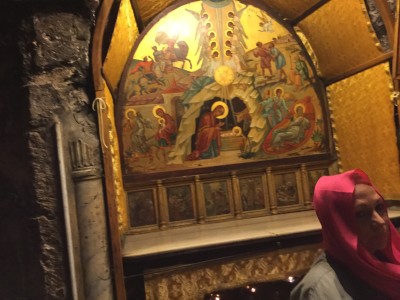 As we traveled next to the inspirational Princess Basma Center for Disabled Children, my back and my emotions settled down. But God wasn't finished with me yet. Today, Friday, we were on the bus at 4 AM, to be at the Church of The Nativity by 5 AM for an unforgettable Eucharist in the space where it is believed Jesus was born. It is the oldest church in Christendom, located in Manger Square and was constructed by Constantine in AD 326. As soon as we got off the bus after, again, a fairly short bus ride, my back started to ache. The Spirit definitely didn't want me to skim over this experience but wanted me to PAY ATTENTION!
The Eucharist was in Italian, we were packed in with two other groups, and I couldn't even see the Priest celebrating the Mass- but when I approached to receive the body of Christ put on my tongue, I was overwhelmed once again to be a part of this group of people who have been celebrating in this place for almost 1700 years. I truly felt the presence of Christ, in that space, in the people, in the bread and wine. Afterwards, all I could say to Libby was "Wow." But God wasn't finished with me yet.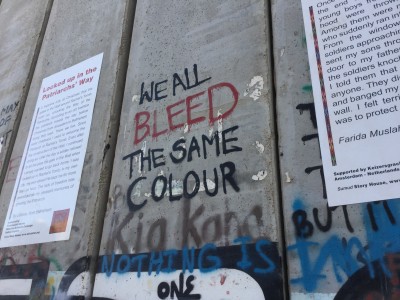 My back continued to ache during our breakfast and on our trip to the Separation Wall at Rachel's Tomb. By this time, I got it. I was paying attention. Ok Holy Spirit, that's enough. But as we listened to our tour guide Iyad tell the story of his people and this wall, I couldn't feel anything but pain. I guess I knew this would be a powerful thing to see, but I was not prepared for the mix of emotions the welled up in me: grief, anger, compassion, puzzlement and deep, deep sadness for all the people involved in oppressing each other. Suddenly, I saw that the day was connected: during the birth of Jesus, people lived under Roman occupation, insecure rulers displayed their supposed power by restricting the rights of others, creating violent confrontations, killing each other in the name of "security." Fear of rebellion, fear of the other, fear of the unknown ruled the area. Today, I felt little had changed. Fear is the ruler of this area now as it was at the time of Jesus' birth. And I do not understand it. I do not understand it when I read about the Holy Family's flight to Egypt or Palestinians leaving their homes for better places where they may have more opportunity and rights. Why do we continue to be ruled by fear? Why do we not listen to God when He tells us so often "Be not afraid." I don't have any of the answers, but I sure am paying attention now. And right now my back doesn't hurt. Message received God…
Thursday, November 19, 2015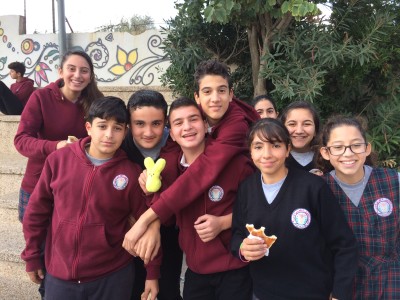 Today we were blessed to see the work of the Episcopal Diocese of Jerusalem in Ramallah.  Driving to Ramallah was a sobering experience as we passed through a checkpoint guarded by the Israeli army. Since we have the proper license plate on the tour bus, we sailed through the checkpoint but could see a huge delay for Palestinians trying to get to work in Jerusalem. We arrived at the Episcopal Evangelical School without incident, and after a fascinating briefing with the head of school, toured the school.  Even though Christians are only 1.5% of the population, the school is one of the finest in the area.  The infectious joy of the children was a spark of hope in a region where it can be difficult not to fall into despair.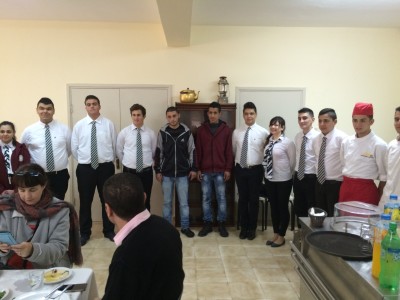 After saying good-bye to the children, we visited the Vocational- technical school, which was opened 22 years ago to help Palestinian youth find jobs in the hotel and technology industries. The students made a delicious lunch for us, and we were delighted by their creativity and eager service.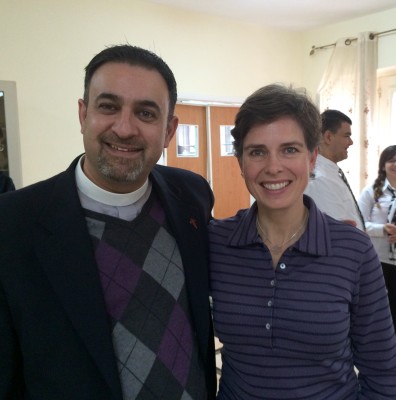 While at the votech school, I was thrilled to see my friend the Rev. Fadi Diab, rector of St. Andrew's church in Ramallah.  In addition to offering extreme hospitality, Fadi's parish is doing extraordinary work to help house Palestinian Christians, provide health care, and bring companionship to lonely elders. These institutions are living "holy sites" of open hearts and hope, daily testifying to the power of God to redeem even the most catastrophic situations. Please pray for them.
Wednesday, November 18, 2015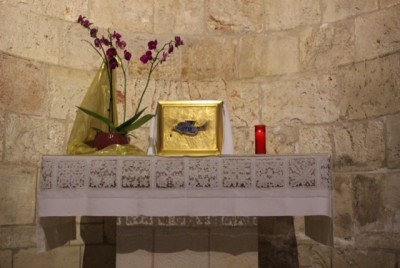 Perhaps it's because I'm missing my children, or perhaps it was the heart-touching healing prayers offered in the courtyard of the church (with an adorable kitten playing nearby), or perhaps it was the simple beauty of the architecture, or perhaps it was the stunning acoustics, but our time at St. Anne's Church moved me to tears. Several times. The remains of the home of Anne and Joachim, parents of the Virgin Mary, are supposedly in the crypt of the church, which is located adjacent to the pools of Bethesda (more on that in a moment). When you enter the church, you are greeted by a sign that invites only prayer and song inside, bidding all "explanation" to remain outside. What a blessed relief.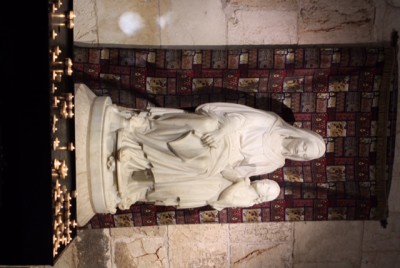 As we entered the church, a group of German pilgrims were singing a familiar hymn (that we sing in Spanish, and I learned from Edgar Gutierrez-Duarte). We filed into the pews as the sound washed over and around and through us. Soon it was our turn to lift our voices in praise. With the rhythmic German cadences fading, we began singing "Seek ye first." As many times as I've sung this hymn, I immediately choked up and let the song of the group carry me through the tears. I'm realizing that this will happen often on this trip as something unexpectedly wells up inside me and finds expression in tears. Thankfully, bolstered by the sign at the door of the church, I feel no need to understand or explain my tears.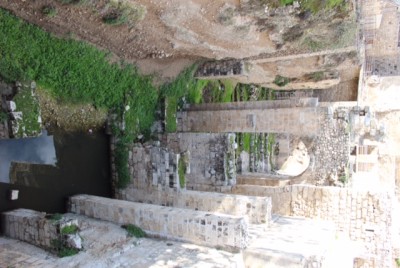 After singing, we quietly dispersed as a Baptist group from Washington DC gathered and began to singing "It is well with my soul." After praying at a side altar and lighting candles for friends and family, I wandered outside to the pools of Bethesda. In his opening comments, the Rev. Mark Stanger observed that insitutional religion doesn't always work for people, so the pools of Bethesda became an alternative healing site in the shadow of the Temple. In John chapter 5, we read about Jesus healing the man who had been sick for 38 years as he lay by the pools. Like other holy sites that have centuries of human artiface layered upon them, I was suspicious about this pool. But I dutifully followed the crowds through the ruins, down some steep metal stairs, and into a dark cavern with fairly dismal looking water. Following the lead of the Russian Orthodox women in front of me, I dangle my head scarf (worn earlier that morning when we visited the Western Wall and Al Aqsa mosque) into the water and let it soak for a second. I pull it up and walk up the stairs. When I touch it to my heart, I burst into tears as I feel peace and love flow into me. The Holy Land is full of mystery. Our hearts are touched, our souls are moved, and I am profoundly grateful. Please come here, if you can.
Tuesday, November 17, 2015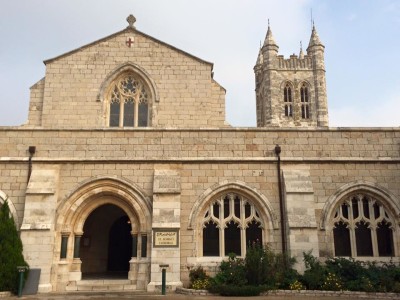 On this 7th anniversary of my ordination, I could not feel more blessed to be at St. George's Guest House in Jerusalem … Thank you Jesus for the gift of serving your people in your church.  Tomorrow, I look forward to seeing Hosam Rafa Naoum as we continue our pilgrimage.
Monday, November 16, 2015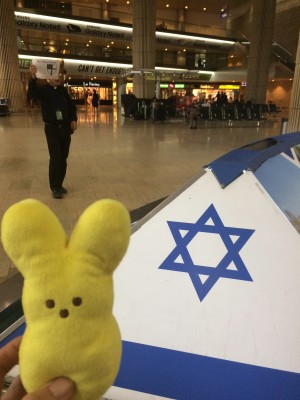 Greetings, to you my brothers and sisters, from the Holy Land!  We are grateful for a peaceful flight into Tel Aviv, where we were joyfully met by our guide Iyad — holding the sign below. And I introduce you to Peep Peep, one of Charlie's stuffed animals whom he asked me to bring with me, so you'll see more of him. After gathering the luggage, we saw some of Israel and Palestine during the 45-minute bus ride to Jerusalem, thankfully passing through the checkpoint to East Jerusalem without being stopped.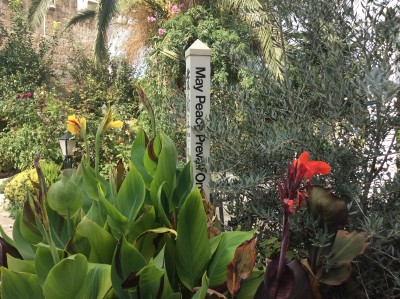 After lunch and a walk into the Old City, we're settling in at St. George's guest house for pilgrims. As I write at a few minutes before 3:00 pm, the Muslim call to prayer echoes through the city, interspersed with car horns and the voices of the children at St. George's school. The sights, sounds, smells all invite us to step into this land full of mystery, history, joy and sorrow, where we will learn much and meet God in new ways. But for tonight, our main hope is for a good night sleep. Love and blessings to you all.